Areometers & Specific Gravity Balances
click images for more information

Nicholson hydrometer
Areometer (cylinder diameter: 4.4 cm) made of sheet iron and lead cone, both enamelled blue. In cylindrical can enamelled blue and gold (diameter: 7.5 cm, length: 29 cm), paper label with the written text "Aréomètre de Nicholson".
French, unsigned, middle of 19th century.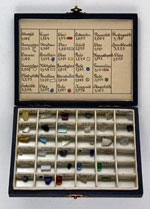 Indicators for specific gravity measurement
Set of 33 indicators (minerals, crystal fragments, glasses) arranged by specific gravity from 2.067 to 3.295 in a wooden box (13.3 x 10 cm) covered with boards. The box is divided in small compartments each with a label to determine the indicator. A manuscript leaf in the cover describes the contents of the box indicating the material, the specific gravity and the color and shape of the fragments.
Printed on the cover "Indicatoren | zur | Mechanischen | Gesteins – Analyse | nach Prof. V. Goldschmidt.", ca. end of 19th century.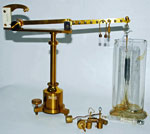 Mohr-Westphal balance
Mohr-Westphal balance designed for determining the density of liquids and solids with its accessories: double compartment glass beaker, two glass floats, three thermometers, two float-tubes (mercury and lead shot), riders and weights. Total heigh 24cm, maximum width 24cm. With original wooden box (not shown).
Signed "F. SARTORIUS | GÖTTINGEN" on the balance arm. Inventory numbers IVd27 (scratched on the balance scale horizontal support) and 36115 (written with white paint on the balance base). Late 19th, early 20th century