Wooden models of twinned feldspar crystals
G.E. Kayser, Berlin, 1834
18 rotatable wooden models of twinned feldspar crystals (all ~2.7 x 2.2 cm) with face symbols in brown ink in a grayish paper covered cardboard box (19.5 x 10.1 x 1.6 cm).
The cover bears a label "G.E. Kayser: | Zwillingsgesetze der | ein- u. eingliedrigen | Feldspathgattungen. | 1834." and an inscription in the top right corner "Inventar 1. | VI 640-677". Inside the top left of the cover is Kayser's autograph dedication "Seinem verehrten Lehrer, | dem Herrn Professor Weiss | Kayser. | 1834." and also a text in another hand "Zur Inaug. Dissert. von Dr. G.E. Kayser, Berlin 1834. | [vgl. Poggendorff, Handwörterbuch I, 1233.] | identisch in Pogg. Ann.
34
, 109, 301; 1835. | Ueber einen Cyclus von Zwölf Zwillingsgesetzen, nach welchen die Krystalle der ein- und eingliedrigen Feldspat- | gattungen verwachsen."
On the occasion of his inauguration in 1834, Gustaf Eduard Kayser (1803-?) presented this set of wooden crystal models to Christian Samuel Weiss (1780-1856) who was professor at the University of Berlin.
private collection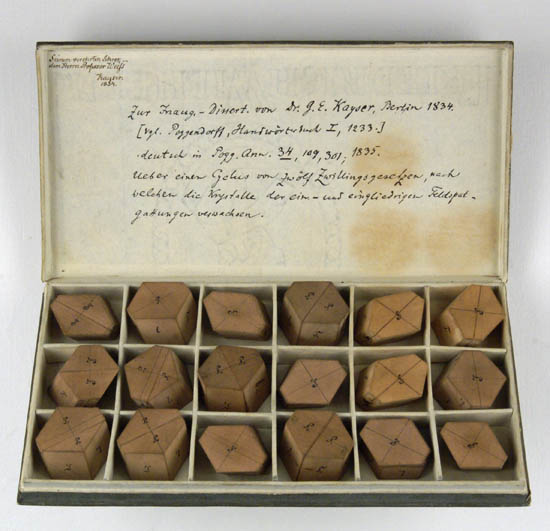 18 rotatable wooden models of twinned feldspar crystals in cardboard box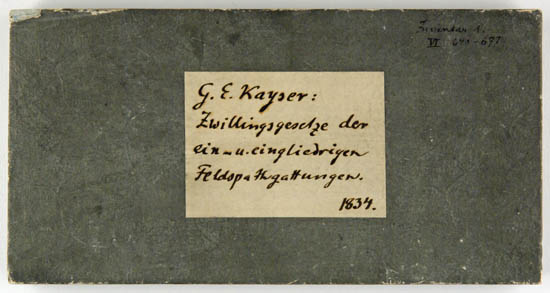 cover of the carboard box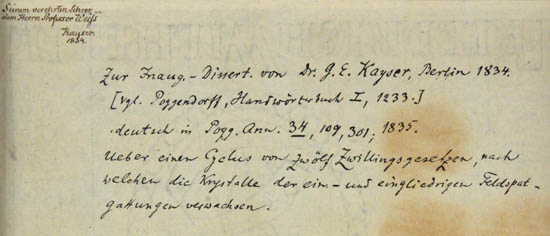 inside of the cover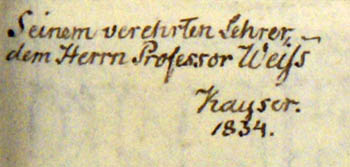 Kayser's autograph dedication to Christian Samuel Weiss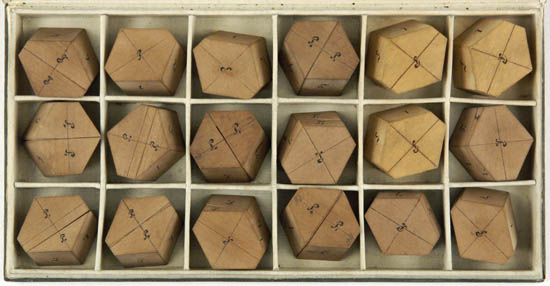 rotatable wooden models of twinned feldspar crystals