Streeter, Edwin W. (1882, reprint)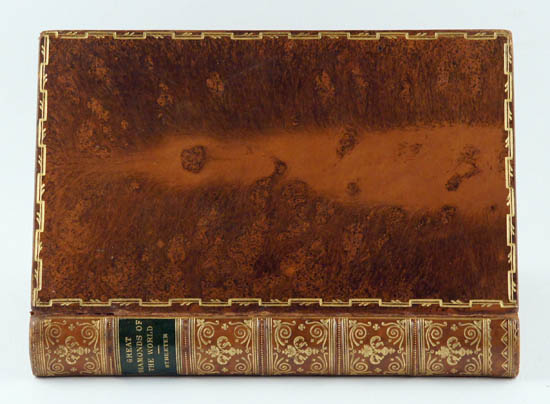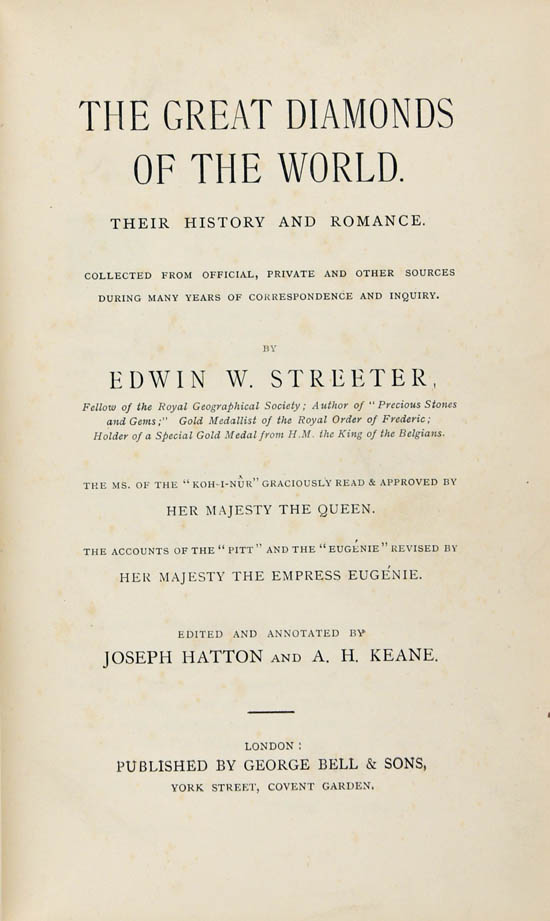 The Great Diamonds | Of The World. | Their History And Romance. | Collected From Official, Private And Other Sources | During Many Years Of Correspondence And Inquiry. | By | Edwin W. Streeter, | Fellow of the Royal Geographical Society; Author of "Precious Stones | And Gems;" Gold medallist of the Royal Order of Frederic; | Holder of a Special Gold Medal from H.M. the King of the Belgians.| The MS. Of The "Koh-I-Nûr" Graciously Read & Approved By | Her Majesty The Queen. | The Accounts Of The "Pitt" And The "Eugénie" Revised By | Her Majesty The Empress Eugénie. | Edited And Annotated By | Joseph Hatton And A.H. Keane. | [rule] | London: | Published By George Bell & Sons, | York Street, Covent Garden. [1882]
Half title:
The Great Diamonds Of The World.
Collation:
8°: [2 blank] [7] x-xxiii [1 blank] [1] 26-321 [1] [1] 2-9 (advert.) [5 blank]
Page size:
134 x 214 mm
Binding:
contemporary full calf binding with richly gilt ornaments and green lettered label on spine, marbled edges
Provenance:
no marks of provenance
Other editions:
1882
References:
Sinkankas 6403; this is a reprint of the original edition [same year] with an additional preface
Collection:
private collection