Leonardus, Camillus (or Leonardi, Camillo) (1750)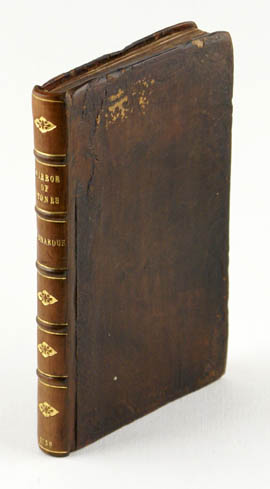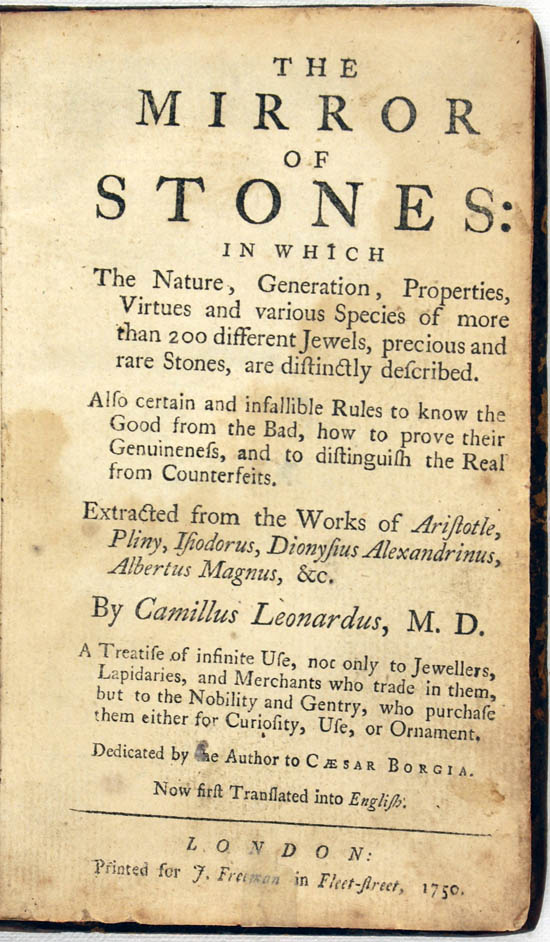 The | Mirror | Of | Stones: | In Which | The Nature, Generation, Properties, | Virtues and various Species of more | than 200 different Jewels, precious and | rare Stones, are distinctly described. | Also certain and infallible Rules to know the | Good from the Bad, how to prove their | Genuineness, and to distinguish the Real | from Counterfeits. | Extracted from the Works of Aristotle, | Pliny, Isiodorus, Dionysius Alexandrinus, | Albertus Magnus, &c. | By Camillus Leonardus, M.D. | A Treatise of infinite Use, not only to Jewellers, | Lapidaries, and Merchants who trade in them, | but to the Nobility and Gentry, who purchase | them either for Curiosity, Use or Ornament. | Dedicated by the Author to Cæsar Borgia. | Now first Translated into English. | [rule] | London: | Printed for J. Freeman in Fleet-street, 1750.
Collation:
8°: A-K
8
; [3] iv-xiv 15-240 [2 blank]
Page size:
160 x 104 mm
Binding:
full calf with gilt lettering and ornaments on spine (rebacked)
Provenance:
no marks of provenance.
Other editions:
Latin: 1502, 1516, 1533, 1610, 1717
References:
Schuh 2893, Sinkankas 3896, Ward & Carozzi 1368
Collection:
private collection