Knorr, Georg Wolfgang (1771)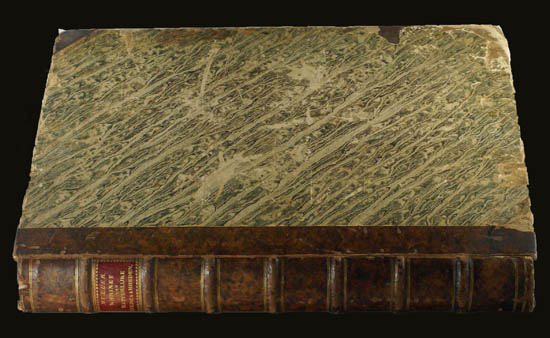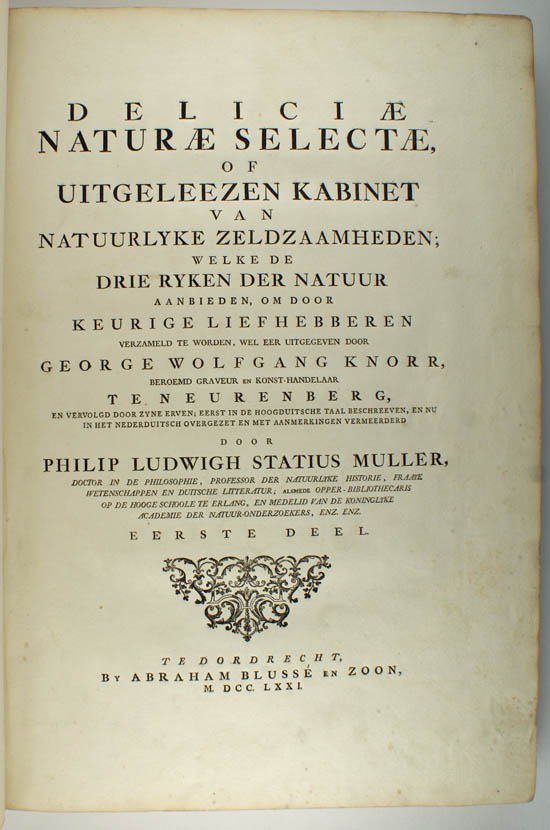 Deliciae | Naturae Selectae, | of | Uitgeleezen Kabinet | van | Natuurlyke Zeldzaamheden; | welke de | drie ryken der natuur | aanbieden, om door | keurige liefhebberen | verzameld te worden, wel eer uitgegeven door | George Wolfgang Knorr, | beroemd graveur en konsthandelaar | te Neurenberg, | en vervolgd door zyne erven; eerst in de hoogduitsche taal beschreeven, en nu | in het nederduitsch overgezet en met aanmerkingen vermeerderd | door | Philip Ludwigh Statius Müller, | doctor in de philosophie, professor der natuurlyke historie, fraaye | wetenschappen en duitsche litteratur; alsmede opperbibliothecaris | op de hooge schoole te Erlang, en medelid van de koninglyke | academie der natuur--onderzoekers, enz. enz. | eerste [-tweede] deel. | Te Dordrecht, | By Abraham Blussé en Zoon, | M.DCC.LXXI.
Collation:
2 parts. [Part I] 2°: [6] [1] II-XXXII [1] 2-67 [1] p., 38 plates. [Part II] 2°: [2] [1] II-XX XXV-XXXIV [1] 2-70 p., pagination jumps from XX to XXV, 53 plates. Engraved additional frontispiece.
Plates:
[Part I]: 38 hand-colored plates, numbered: A.-A.XIV, B.-B.VI, C.-C.5, D.-D.III, E.-E.5. [Part II]: 53 hand-colored plates numbered: F.-F.VI, G.-G.III, H.-H.VIII, I.-I.6, K.-K.XIII, L.-L.XI, One hand-colored engraved additional frontispiece by R. Muys. Plates depicting minerals and metals are numbered E., E.1-E.5.
Page size:
507 x 360 mm
Binding:
half leather over marbled boards
Provenance:
no marks of provenance but numbered copy "N° 92"
Other editions:
German & French: 1754-66 (first edition); French: 1779
References:
Schuh 2726
Collection:
private collection