Gesner, Conrad (1565)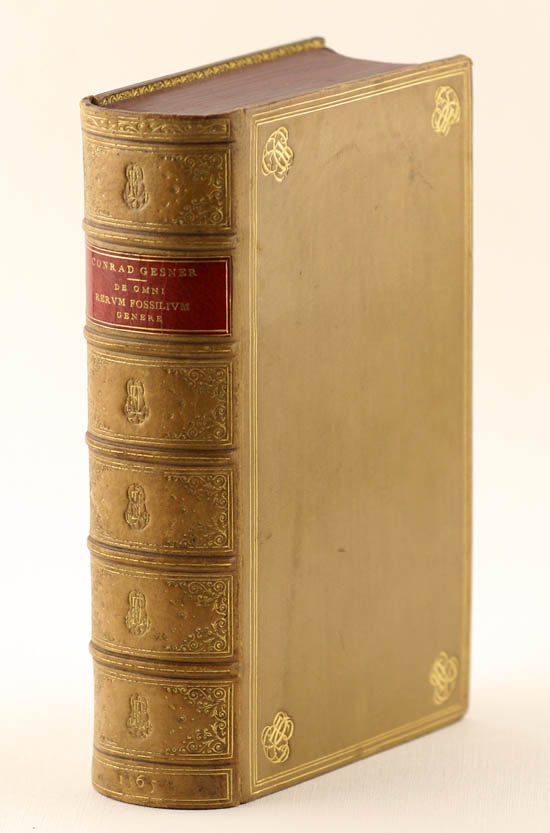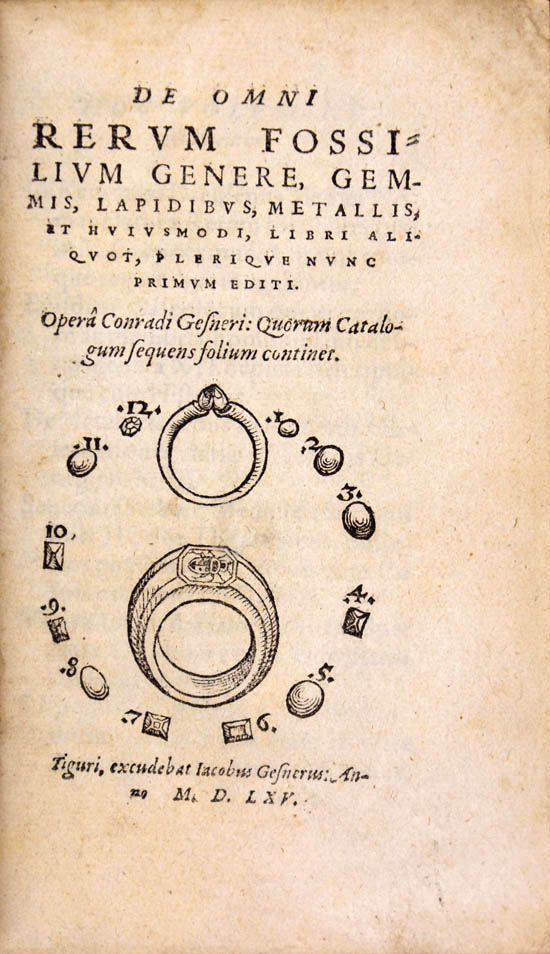 De Omni | Rervm Fossi= | livm Genere, Gem- | mis, Lapidibvs, Metallis, | Et Hvivsmodi, Libri Ali- | Qvot, Pleriqve Nvnc | Primvm Editi. | Operâ Conradi Gesneri: Quorum Catalo- | gum sequens folium continet. | [woodcut ornament, two finger rings surrounded by 12 numbered cut gems] | Tiguri, excudebat Iacobus Gesnerus: An- | no M. D. LXV.
Collation:
8°: a8 A-M8 Aa-Yy8 Aa-Cc8 a-i8 α-ε8 (α)-(δ)8 †α-†λ8;
leaves [8] 1-95 [1 blank] [7] 1-169 [2] 1-22 [3] 1-30 [recte 31] [2] 1-30 [4] [1 blank] [3] 1-37 [4] 1-28 [2] 1-85 [recte 86]
i3 misnumbered 30 must be 31, β2 misnumbered 6 must be 7, ε7 misnumbered 34 must be 36, †α4 and †α5 both numbered 2.

Plates:
numerous woodcut illustrations in the text.
Page size:
98 x 160 mm
Binding:
full calf with richly gilt ornaments and red gilt lettered label on spine, edges red.
Provenance:
unknown ornamental initials on the corners of front and back cover
Other editions:
each of the included works is known to exist as its own separate volume. The works are by different authors including Gesner:
1: Catalogus Rerum Fossilium… by Johannes Kentmann
2: De Rerum Fossilium, Lapidum Et Gemmarum maxime figuris & Similitudinibus Liber Folum Medicis, sed omnibus Naturae ac Philologiae studiosis, utilis & iucundus futurus. By Conrad Gesner
3: Calculorum Qui In Corpore Ac Membris Hominum Innascuntur, genera XII.. by Johannes Kentmann
4: De Metallicis Rebus Ac Nominibus Observationes Variae & eruditae, ex schedis. By Georg Fabricius
5: De Succino Libri Duo. By Severin Goebel, followed by Gesner's commentary De Bitumine Et Cognatis Ei, Naphta (id est vulgi petroleo)
6: De Halosantho seu Spermate Ceti.. by Valerius Cordus and Gesner
7: Sancti Patris Epiphanii Episcopi Cypri Ad Diorum Tyri episcopum, de XII Gemnis, quae erant in veste Aaronis, Liber Graecus, & è regione Latinus. By Iola Hierotarantino and Gesner
8: De gemmis aliquot... by François de la Rue

References:
Hoover 347, Schuh 1880, Sinkankas 2366, Ward & Carozzi 906.
Collection:
private collection