Dezallier d'Argenville, Antoine Joseph (1742)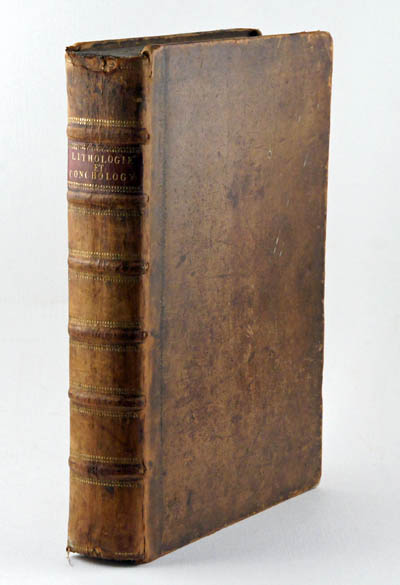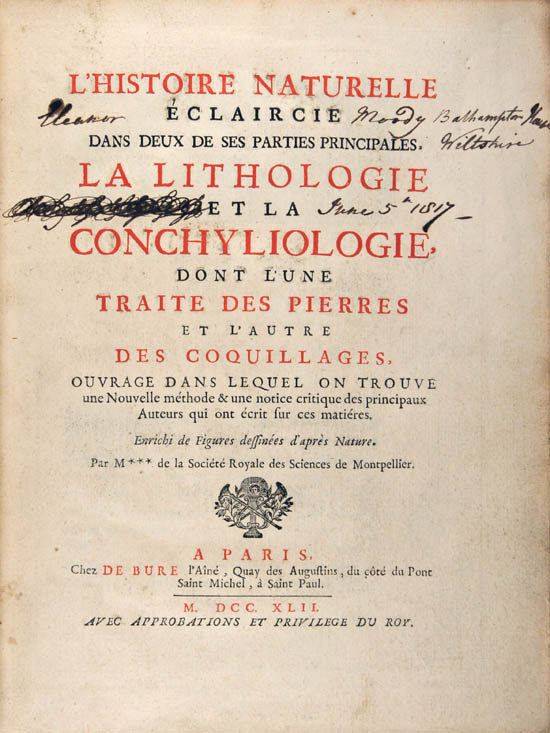 L'Histoire Naturelle | Éclaircie | Dans Deux De Ses Parties Principales. | La Lithologie | Et La | Conchyliologie, | Dont L'Une | Traite Des Pierres | Et L'Autre | Des Coquillages, | Ouvrage Dans Lequel On Trouve | une Nouvelle méthode & une notice critique des principaux | Auteurs qui ont écrit sur ces matiéres. | Enrichi de Figures dessinées d'après Nature. | Par M*** de la Société Royale des Sciences de Montpellier. | [ornament] | A Paris, | Chez De Bure l'Aîné, Quay des Augustins, du côté du Pont | Saint Michel, à Saint Paul. | [rule] | M. DCC. XLII. | Avec Approbations Et Privilege Du Roy.
Title in red and black
Collation:
4°: a
4
A-3Q
4
; [8] [1] 2-491 [1] p., frontispiece, 32 plates
Plates:
engraved frontispiece [numbered "Plan. 1."] signed: "Boucher In. Chedel Sc." and 32 unsigned engraved plates numbered: "Plan. 2.-33."; the plates in this copy are all hand colored
Page size:
216 x 282 mm
Binding:
contemporary full calf with gilt lettering on spine label
Provenance:
inscribed on title page "Eleanor Moody Balhampton House | Wiltshire | June 5th 1817"
Other editions:
1755, 1760 and 1775 (minerals and petrifications); 1757 and 1780 (conchology)
References:
Schuh 1337, Ward & Carozzi 659
Collection:
private collection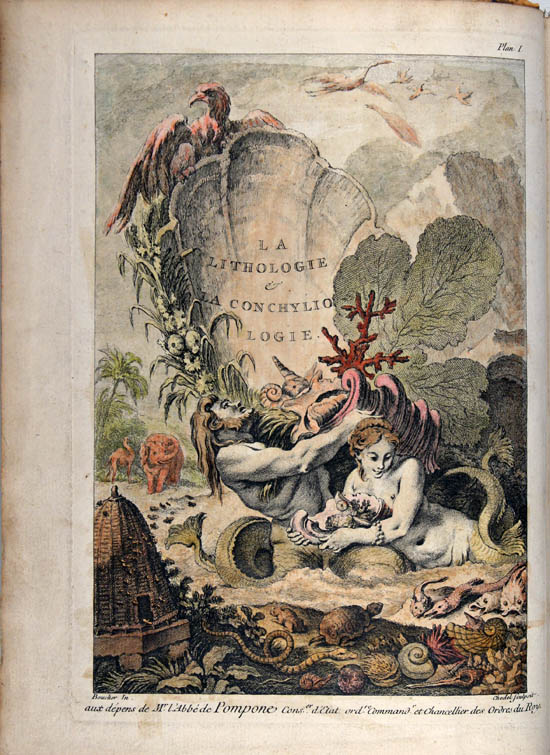 frontispiece plate