Buc'hoz, Pierre Joseph (1778-1781)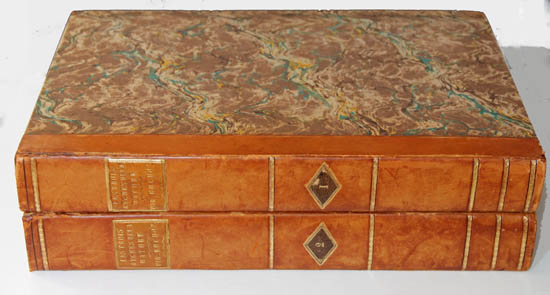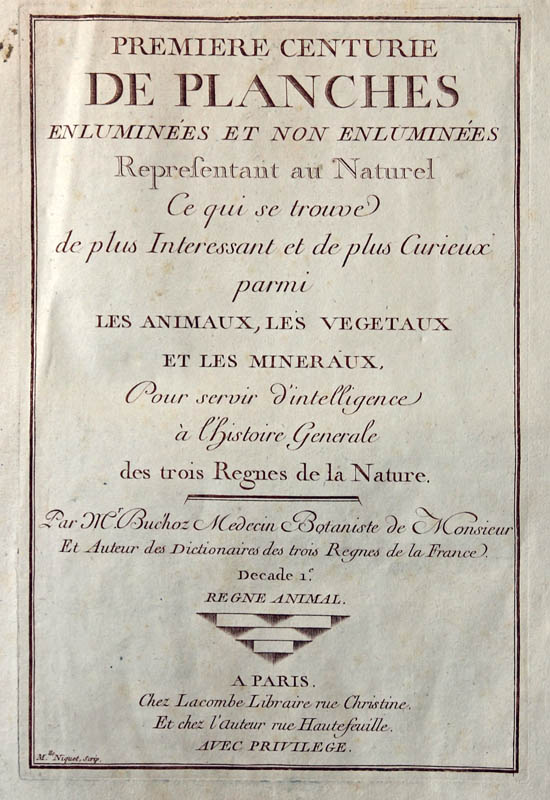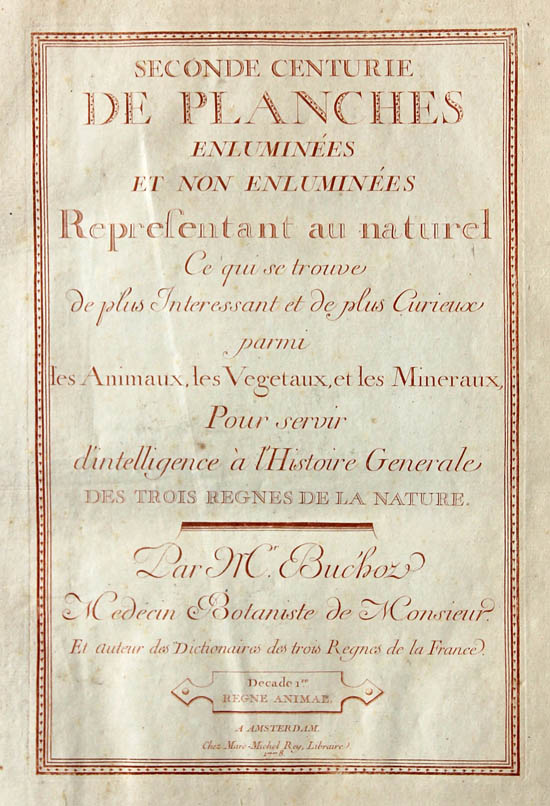 [Engraved title printed in red and contained within a double ruled box:] Premiere [-Seconde] Centurie | De Planches | Enluminées Et Non Enluminées | Representant Au Naturel | Ce qui se trouve | de plus Interessant et de plus Curieux | parmi | Les Animaux, Les Vegetaux | Et Les Mineraux, | Pour servir d'intelligence | à l'Histoire Generale | des trois Regnes De La Nature. | [ornate rule] | Par Mr. Buc'hoz Medecin Botaniste de Monsieur | Et Auteur des Dictionnaires des trois Regnes de la France. | Decade 1e. [-2e, -3e,....] | Regne Animal. [-Végétal, -Mineral] | [ornate rule] | A Paris [-Amsterdam]. | Chez Lacombe Libraire rue Christine, [-Chez Marc-Michel Rey, Libraire. | 1778-81] | Et chez l'auteur rue Hautefeuille, | Avec Privilege. | [1778-1779] | Mlle. Niquet, Scrip.
Note: title page varies in minor detail and color from one decade to another
Collation:
2 vols. folio each with 200 plates of 10 subjects in uncolored and colored impression; each decade with an engraved title page and an engraved table of contents
Plates:
total of 400 engraved plates numbered: " Pl. I., ... Decad. 1., ... " and signed by Desmoulins, G. de Favane, C. Bacquoy, Dupin fils, C. Fessard, etc.
Page size:
327 x 485 mm
Binding:
half calf over marbled boards
Provenance:
no marks of provenance
Other editions:
1778-1782 (2nd edition)
References:
Schuh 920
Collection:
private collection