Babington, William (1799)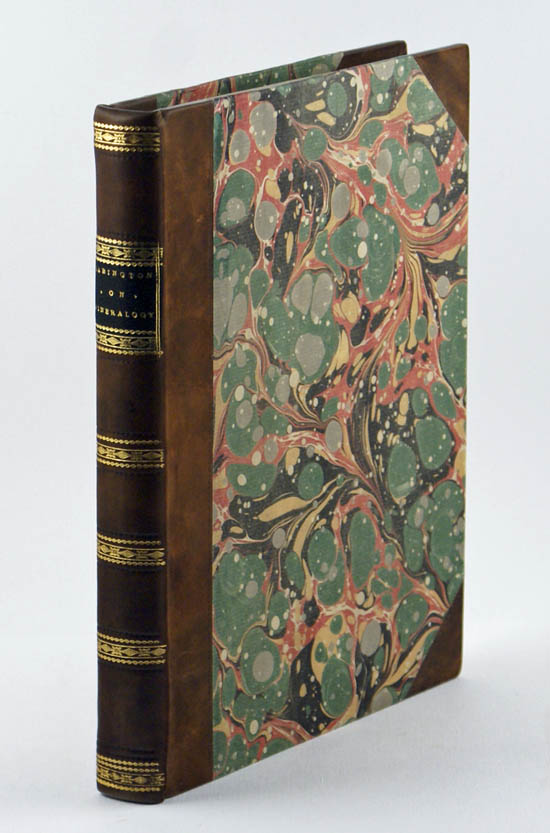 A | New System | Of | Mineralogy, | In The Form Of | Catalogue, | After The Manner Of | Baron Born's Systematic Catalogue | Of The Collection Of Fossils Of | Mlle Éléonore De Raab. | [double rule] | By William Babington, M.D. | Assistant Physician, And Lecturer In Chemistry, At Guy's Hospital. | [double rule] | London: Printed For The Author, By T. Bensley, Bolt-Court, Fleet-Street; | and Sold By W. Phillips, George-Yard, Lombard-Street; G.G. And J. Robinsons, | Paternoster-Row; And T. Cox, St. Thomas's-Street, Borough. | [rule] | 1799.
Half title:
A | New System | Of | Mineralogy. (the half title is missing in the present copy)
Collation:
4°: [A]
4
B-Z
4
Aa-Nn
4
O
2
P
2
; [7] viii [1] 2-279 [1 blank] [6] p.
Page size:
202 x 262 mm
Binding:
later half calf with marbled boards and gilt ornaments and black leather title label on spine
Provenance:
unknown, but with numerous contemporary manuscript notes and extra leaflets with notes bound in, as well as extra pages with notes and newspaper clippings (dated between 1808-1810) at the end of the present volume.
Also bound in is the complete text part consisting of a series of tables (B-G
2
H
1
) of the first edition of the author's "A Systematic Arrangement Of Minerals" of 1795
Other editions:
none
References:
Schuh 264; Ward & Carozzi 92
Collection:
private collection